RFE (Request for Enhancement)

Hello
Thank you very much for allowing to use SmartGit in private open source projects for free.
It would be much easier if we could also register topics in German, I would have bet SmartGit has a German origin :-)

I have a small usability suggestion:

This kind of dialog information is very annoying: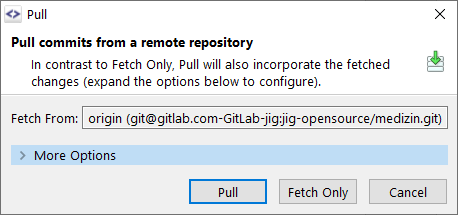 The explanation is formulated in such a way that it looks like one must understand two things at the same time:
"Pull ... in contrast to Fetch Only, ..."
Because "Fetch only" is mentioned, one looks for the description of Fetch only, too.
» In the end, this wording leads to reading the explanation several times and still not being sure if one understands it :-(
It would be much more useful if the Dialog explains both functions for itself, for example:
Fetch only (git fetch) is safe: it just gets the latest metadata from the original (it does not transfer files)
Pull (git pull) does a git fetch followed by a git merge. Therefore, server files are merged to your local files.
Thanks a lot, kind regards,
Thomas Schittli