RFE (Request for Enhancement)
It could be useful to have a special line to show the cherrypick effect: the commit/branch from which the cherry pick started and where it arrived.
Here how it works in TortoiseHG: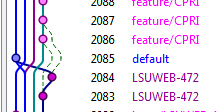 The dashed line shows the cherrypick effect.
This is pretty useful with our Giflow Workflow.